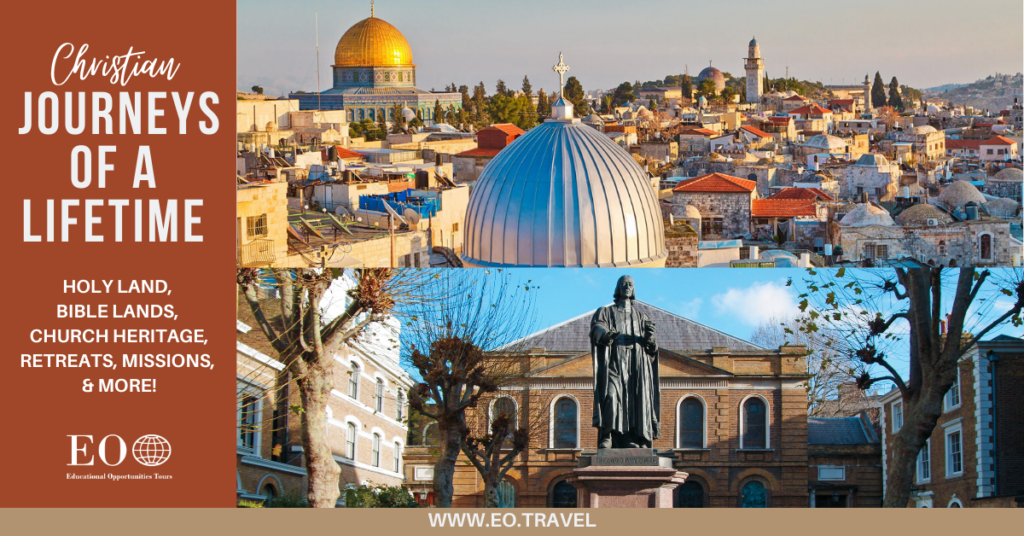 EO – Educational Opportunities Tours is a Christian travel ministry that has been delivering Christian journeys of a lifetime for almost 50 years. Travelers have joined EO around the world on Holy Land pilgrimages, Bible land expeditions – by land and sea, Church heritage tours, retreat cruises, and cultural explorations. EO's travel experts and on-site hospitality staff serve each guest by handling all travel details and ensuring safety and health throughout each journey; curated itineraries, educational resources, and guest speakers create unique experiences that change individual lives, ministry, and the Church.
EO Tours offers hundreds of scheduled departures each year. Individual travelers or groups of any size can join these inspirational journeys. EO can also help travelers plan a customized itinerary to their destination(s) of choice. Whether you travel alone or with a group of 500, EO can help plan your Christian journey of a lifetime.Despite the restrictions on travel due to the pandemic, EO Tours is assisting travelers with travel plans for 2021 and 2022. We look forward to serving you and your travelers through our Christian travel ministry. Visit our website, or contact us at 800-247-0017 to start planning your next Christian journey.
Explore our newest special travel offers! Join EO Tours in Italy for a special familiarization tour
August 2-8, 2021. Explore Rome, Tuscany, Sienna, Florence, Naples, Pompeii and more on this whirlwind journey for only $2,098 (travel companion is $2,198) which includes touring, hotels, and airfare from NYC. Visit our site for all the details and to register while space is available.
EOX – Exceptional Expeditions for Small Groups. Does your small group want to travel without having to join others on a large bus? Do you want flexibility to change your itinerary before or during your trip? Is planning your trip difficult? Is pricing confusing and misleading?
EO Tours, a leader in Christian since 1974, is proud to introduce new expeditions for groups of 6-16 travelers to destinations around the world. EOX enables your small group to have a guaranteed private journey of a lifetime.
Exciting and inspirational itineraries with sites not included on other EO travel experiences.
Flexibility to change your plans before or during your expedition.
Guaranteed private travel – no one will be added to your group.
Pricing that is easy to understand and offers great value.
Flexible travel dates to fit your schedule needs.
Expert service and advice from the leader in Christian travel.
Visit EOX to see sample itineraries to Egypt, Greece, the Holy Land, Iceland, Ireland, Italy, Mexico, Turkey, and more – some of these countries are open to US travelers now. Start planning today for travel in late 2021 or 2022.
Social Media: EO – Facebook & Instagram or EOX – Facebook #eotours #travelwithus #travelwitheotours