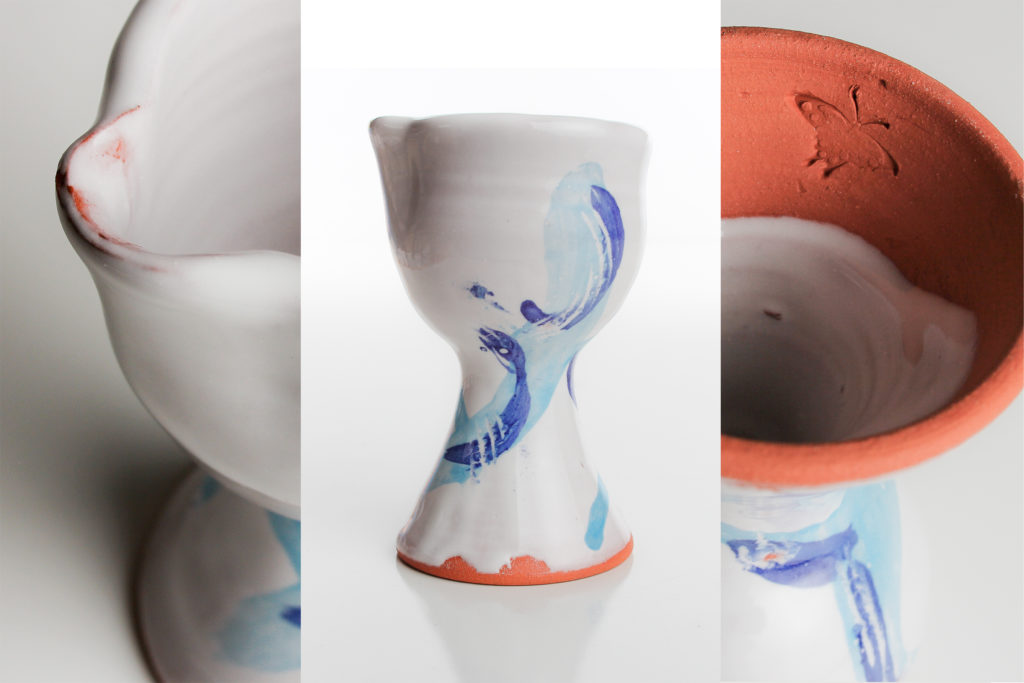 As a potter AND a pastor, I make pottery for the work of the Church. All pottery is hand made by me in my studio in the Northwoods of Wisconsin. I create elegant solutions for offering communion, anointing and other rituals of the Church with these beautiful and practical liturgical ceramics.
As a pastor, I know the desire to be with those we serve in a deep and meaningful communion of souls. I'm equally aware of the practical concerns that go with sharing Communion elements while juggling Bible, cup, bread, and someone's shaking hand. I am able to craft vessels that are beautiful, practical, and meaningful so that you can focus on serving the persons you visit. Combined with handy tote bags that have washable bottoms, serving cloths with cleanable backs, and all the tools that are needed for your visit, the pottery sets will serve you well for decades.
The designs are inspired by signs of God's power, love, and beauty in the natural world and human hearts: The cross, the blue waters of cleansing and nourishment, living symbols such as the woodland trillium flower, harmony and balance. Many styles of Communion sets, anointing sets, finger labyrinths, prayer jars, visit cards, and symbolic necklaces round out my offerings. You bring symbols of the faith that can be seen and held to those you serve.
Let Spirit of Creation help you in your work by providing the tools you need. Visit Spirit of Creation to see all of my offerings! The Presence of the Holy. The Communion of Souls. The Spirit of Creation.
• Receive a free labyrinth necklace with ANY purchase. Keep the peace of a labyrinth close to your heart with this ceramic labyrinth necklace. Makes a great gift. Simply use the coupon code 'freespirit' when you checkout!
• Receive a free prayer jar set with any purchase over $300. Prayer jars make nice companions on your desk or table, as you attend to your devotional and prayer time. Use the coupon code 'prayer' when you checkout!
Social Media: Facebook #spiritofcreation