Contact Information
We bring to you fair trade ministry resources directly from artisan workshops in El Salvador and Guatemala. Along cobblestone streets in the small rural town of La Palma, an area of fighting in El Salvador's civil war, women paint Biblical scenes on wooden crosses with bright colors. Indigenous Mayan women in the mountains of Guatemala weave and embroider designs onto liturgical stoles for pastors and deacons. A number of styles are shown on our website. Often with no other income available, families there depend upon our sales. Some have worked with us for thirty years.
Tree of Life Imports was founded in 1989 during El Salvador's civil war as a means to bring the art of La Palma to the American market. Since then, we have focused our attention on several Latin American communities to help provide equal opportunity for all to work, including women and the rural poor.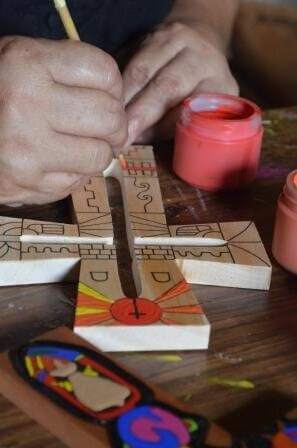 All of our products are handmade by artisans in El Salvador, Guatemala, and Mexico. Tree of Life Imports is committed to fair trade and economic justice. We pay a fair price that has allowed our producers to greatly increase their standard of living.