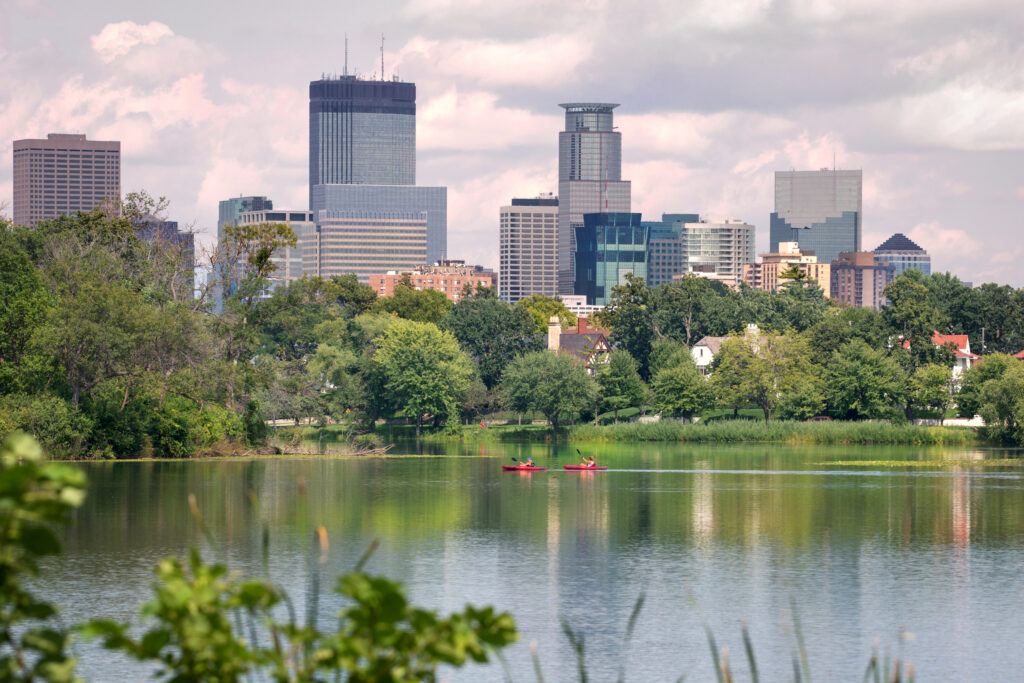 Kayaking at Bde Mka Ska – Courtesy of Meet Minneapolis

See you soon in Minneapolis!
YOU'VE NEVER MET A PLACE QUITE LIKE THIS…
Meet the biggest underestimated place in the north. A dramatic riverfront skyline, three professional sports stadiums within 1.3 miles, so much art you're literally surrounded by it and a theater on almost every corner. A culture committed to perfecting the craft of the brew, one of the best park systems in the nation, and a foodie paradise where you can get Nordic cuisine for breakfast, Ethiopian for lunch and this thing called a "Jucy Lucy" for dinner – and, oh yeah, cocktails on a Ferris wheel. A place to bring your dancing shoes and party at festivals all year round, enjoy four gorgeous seasons surrounded by 22 lakes, the Mississippi River and a waterfall, and meet friendly locals who can't wait to show you why they love living here.
Thank you for registering for the 2023 Festival of Homiletics. We are pleased to be working with Connections Housing once again for your hotel reservations. Everyone registered will get an email once housing has gone live, so please be sure you have your accurate email associated with your registration.
Typically, Connections Housing handles all of our hotel courtesy blocks. They compile a list of area hotels with courtesy blocks, or discounted rates. The hotels offer a variety of prices and amenities. Many of the hotels are within walking distance to the venues. More distant locations are along a bus routes or Metro lines often at a more deeply discounted rate. The rooms have been reserved at a special rate and will be filled on a first-come, first-served basis. After the allocated rooms have been filled, reservations may be made at the regular room rate if space is available. This is by no means an exhaustive list of the hotels available to participants, utilize all resources when looking for a hotel to fit your budget or expectations. Most CCVB's have a full listing of all available hotels in the area – Meet Minneapolis. You can all use the many travel sites to look for the best option like Airbnb or Kayak.
Thank you in advance and we look forward to seeing you in Minneapolis, MN in 2023.
Festival Staff & Connections Housing
Things to Do in Minneapolis
Minneapolis wasn't built in a day. This dynamic, prosperous city is the current incarnation of its unique past – a history impacted by the region's natural beauty, its original indigenous and immigrant residents and its fluid relationship with the mighty Mississippi River. Minneapolis combines the bustle of a big city with the intimacy of neighborhood life. Spring in Minnesota varies widely and weather may be glorious or erratic; but by May, flowers have pushed their way out of hibernation, trees blossom, gardens are planted and the city becomes colorful again. Find out what Minneapolis is all about!

-Courtesy of Meet Minneapolis