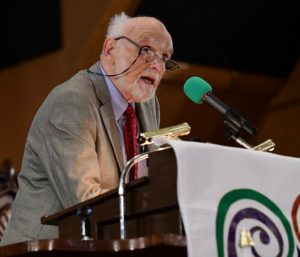 Walter Brueggemann began our first full day of the Festival of Homiletics 2018 leading worship and preaching on, "Meat, Anxiety, Injustice," (I Kings 4:20-28; 9:15-19; Luke 12:13-31) with liturgist Brad Froslee at Metropolitan AME Church. Brueggeman explored in his sermon what it means to be a "meat-loving ruler" like Solomon, claiming meat as a status symbol in this story. And like many other status symbols, you tend to be left wanting more. But "not even Solomon, in all his carnivorous glory, was a richly clothed as the lilies of creation." In a call to justice, Brueggemann encouraged listeners to recognize that, "When we are greedy and anxious, we cannot do justice."
In the afternoon, festival goers heard more from Brueggemann in a lecture entitled "The Joker Amid Class Warfare." Preachers were invited into the abundance of good-neighborliness. "Because justice is a theological matter that concerns the character of and our relationship to God." The poor dared summon God back into the enterprise of Creation. And when God can be mobilized, creation can be restored.
Brueggemann claimed Yahweh's proper role in the world as an Easter God, an advocate for widows and orphans and immigrants. The helpless abide with me, God says. "Yahweh will not be dismissed but will govern forever. In that rule, there are no predators." Those gathered were emboldened to insist the world is other than the powerful take it to be, praying as if change could really happen.
For Brueggeman, many are praying anemic prayers with no imagination miracles can actually happen through the power of God. He made clear, "Jesus did not say, if you pray this way, you will get what you want. If you pray this way, you will not lose heart." It takes great faith to prayer but participants were called to trust in the compelling work of intercessory prayer and God's tenacious solidarity. After all, "It is the work of the church and its pastors to pray without ceasing."
The afternoon's remarks were recognized with a standing ovation from the overflowing sanctuary at Metropolitan AME Church. There is so much gratitude for this fabulous preacher and Christian leader. More powerful preaching to come from others in the following days!