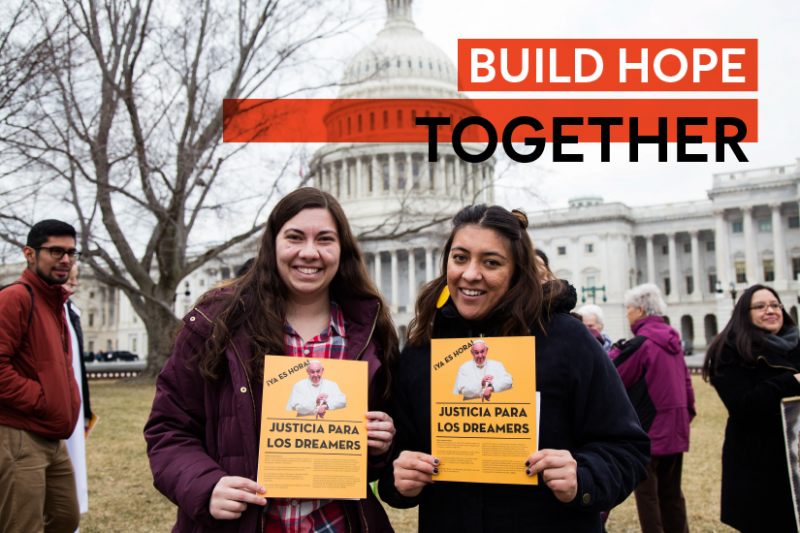 Sojourners is an ecumenical Christian social justice advocacy organization that publishes a magazine by the same name. Sojourners mission is to inspire hope and action by articulating the biblical call to racial and social justice, life and peace, and environmental stewardship. We seek to inspire hope and build a movement to transform individuals, communities, the church, and the world.
Sojourners is committed to seeking the truth as informed by our biblical roots, to uncover and explore injustices, and offer solutions consistent with our Christian values. We draw on a long and diverse tradition of Christians following Jesus and seeking justice, across different traditions, cultures and times in history. Our journalistic mission includes "comforting the afflicted and afflicting the comfortable."
In our print and online news, analysis, and spiritual reflection, as well as our multimedia stories, we seek to be fair in our coverage, while not advancing false equivalencies. Our writers have a point of view, and we insist that they be accurate in their reporting and analysis; rigorous, comprehensive, and ethical in their methods; and transparent with readers about how they have arrived at their conclusions.
Our advocacy work focuses on racial justice, humane immigration reform, climate care, peace and nonviolence, and women and girls. Currently we have a campaign to expose and fight voter suppression.
Festival of Homiletics attendees can get a FREE Three-Month Sojourners Subscription. We think that you will be so impressed with the content of Sojourners that you will want to renew—but there is absolutely no obligation. This offer is valid only for new subscribers who live in the U.S. (The $11 one-year subscription offer is good for anyone but there is an additional charge of $20 for international addresses.)
Join Adam Russell Taylor, president of Sojourners, for a talk on "Prophetic Preaching to Build the Beloved Community in Polarized Times" What does it mean to preach prophetically to such a polarized nation and church, and how can our preaching be a force for deepening our commitment to co-create a radically more just and inclusive church, nation and world? This talk will delve deeply core biblical values and commitments that can unite and mobilize people of faith around a shared, re-imagined moral vision of the beloved community, a vision that animated the civil rights struggle and still remains deeply transformational today.
Social Media: Facebook, Twitter & Instagram