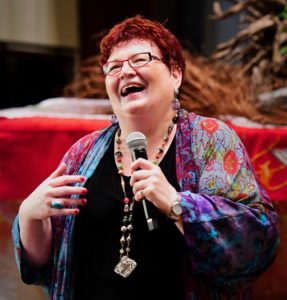 Wednesday, participants enjoyed a lovely evening of storytelling from Geraldine Buckley on "True Tales of Faith and Wonder." Buckley shared stories from her time as a chaplain in a prison in Maryland and the workings of the Spirit through the hospitality of a cup of tea. Those gathered were drawn into her gift for narrative and the session concluded with a standing ovation.
At Luther Place Memorial Church Thursday morning, Buckley led two sessions of "Rocking the Flock with Stories." It is amazing the stories people can tell when invited to share about their shoes! Through a variety of exercises, Buckley reiterates the importance of our stories and encouraged the participants to tell people YOUR stories from the pulpit, not stories from the internet or stories with you as the hero. Through stories is the most authentic of shepherding. Buckley reminds those gathered, "that's the whole thing about stories, we have the opportunity to take someone by the hand and take them somewhere they wouldn't otherwise go."
By telling her own story, she took participants into the journey of her own story reminding the preachers to be sure to process your stories properly before bringing it to the pulpit. What might it look like to have the accountability of a group of pastors who process through stories together before they are shared publicly?
If you take listeners to a deep, darker place through your story telling, work to bring them out again, to a place where there is hope and humor. People open up through laughter and through story. Stories are magic. Other stories remind you of your own. Over 200 people between the two sessions were engaged in passionately sharing stories with one another. Around the sanctuary were pairs animatedly sharing and deeply listening. May we cultivate such spaces as we go into the world!