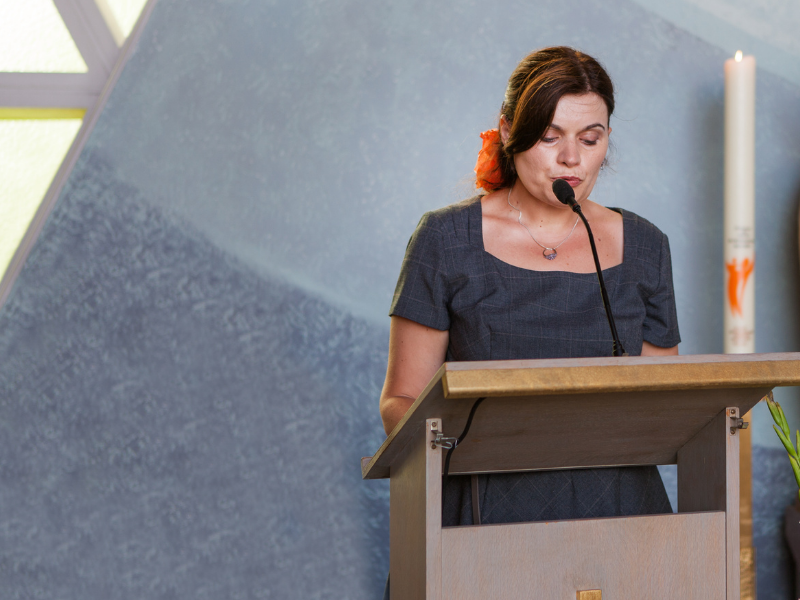 Thank you to our sponsors!
Aboundant

Church Websites for Difference-Making Organizations! Not that long ago you may not have imagined the essential tasks of ministry include knowing how to livestream socially-distanced worship, set up and run online small groups, master Instagram / YouTube / TikTok, and build a dynamic website that would be your congregation's primary meeting space for a year. You've come a long way on your own, but as you continue to adapt, you need awesome partners on your side. Aboundant is a website development and digital ministry solutions agency that partners with organizations like yours. We can't make everything in your life easier, but we can make a big difference. Need help building a new website or refreshing an existing one?

Hoping to create a new brand or get found online? Troubleshooting a hack or training a digital ministry team? Let us partner with you. Our "Done WITH You" approach to projects helps you build skills, develop ownership of your site, and communicate in authentic ways. Aboundant's team members are people like you: a pastor, a Christian educator, a church communications staff member. We've worked in various church and nonprofit settings, so we "speak church" in ways you'll never find at some of the giant, do-it-yourself website companies.

Aboundant has helped churches small and large, denominational offices, church camps, mission / justice / environmental organizations, and many others…and we can help you with whatever you're dreaming of doing next. Start a conversation today to get web design for your mission, delivered with care.
Amplify Media is a streaming service allowing churches large and small unlimited video access in order to discover, customize, and share diverse resources that encourage deeper discipleship and equip churches to pursue their mission with greater impact. Amplify is available anytime, anywhere on any device.

Backstory Preaching

At Backstory Preaching, we know you want to inspire your listeners to love God and neighbor with sermons that bring the ancient stories of scripture to life. You want to preach messages you believe in—in your own words, with your own unique voice—every time you enter the pulpit. 
The problem is you're on a relentless weekly deadline, and the chaos of ministry life leaves you drained. You're determined to squeeze sermon prep into the spare minutes of your week, but too often, you find yourself panicking at the eleventh hour about what you're going to say. You don't want to rely on the internet, but you don't have a process you can rely on each week to discern your own ideas. 

The worst part? Sermon prep, which should be a fun, restorative time of connection with God, becomes a dreaded burden of stress.

It doesn't have to be this way. 

We believe every preacher can thrive in and out of the pulpit. Through our year-long preaching Mentorship program, we help preachers integrate spirituality, process, and craft to: 
✅ establish a reliable process to save time and reduce stress
✅ connect with God during sermon prep
✅ discern authentic messages of good news with confidence
✅ craft sermons they can't wait to preach
✅ and *enjoy* the process!

Download the Mentorship brochure for more info and to be notified when applications open. We'll include "10 Ways to Improve Your Sermon by Sunday"—simple tips you can implement today for immediate inspiration. 

Be good news to preach good news! Backstory Preaching: Integrating Life, Spirituality, and Craft shows you how. By integrating your life and spirituality with the practical skills necessary for effective preaching, you can move beyond the boredom, stress, or insecurity of preaching so it is no longer you who preach but Christ who preaches in you. Backstory Preaching offers online preaching formation and continuing education programs.  
By the Well: A Lectionary Podcast

By the Well is a weekly lectionary-based podcast for preachers. Each week we take a deep dive into the texts from the Revised Common Lectionary, exploring their ancient setting and how we might preach them today. We take the Bible seriously, but not literally, bringing the best biblical scholarship into the conversation with lived experience, pastoral need, and theology.

The hosts – Robyn Whitaker (PhD, New Testament, University of Chicago) and Fran Barber (MDiv, Uniting Church Minister) – both have experience preaching in a wide variety of contexts. We are passionate about enlarging the circle of theological conversation, engaging the questions of today and seeking God's wisdom in how we ask and respond to those questions. Guests frequently join us in the conversation to bring perspectives different to our own. 

Our name, By the Well, is a nod to the Samaritan woman in John 4. In many ways she is an ordinary woman, perhaps on the margins of her community. When she encounters Jesus during her daily task of drawing water at the well, it transforms her and her faith. In discovering the "living water" that is Christ, she becomes a preacher and evangelist for her community, bringing them to encounter the Good News of God for themselves.

We hope that our conversations By the Well will feed yours, wherever you find yourself preaching and discussing the Word of God.
Day 1

Day1: Proclaiming the Positive, Passionate Message of the Mainline Churches.
Day1® offers preachers, church leaders, and laypersons a wealth of timely, trustworthy resources at no charge. Formerly "The Protestant Hour," Day1 celebrates 76 years of mainline media ministry in 2021. Our radio program airs on 200+ stations across America and in a dozen other countries, and our podcast version is available anywhere, anytime on your favorite app—search for "Day1 Weekly Program.

On our website at Day1.org you can access our weekly Day1 programs, which feature outstanding preachers representing the historic Protestant denominations offering a lectionary-based sermon and engaging in interesting conversations with host Peter Wallace. Plus, watch videos, listen to podcasts, read relevant articles, explore our extensive sermon archives, donate to our ministry, learn how you can preach on Day1, and more.

And check out FaithGoods.com for faith-proclaiming, community-building apparel, accessories, church signs, and books—including our Faith & Science in the 21st Century book/audio/video group study resource, and Bread Enough for All: A Day1 Guide to Life, ideal for individual or small group use. 

Keep in touch—follow us on social media: Day1online on Facebook, Day1 on LinkedIn, @Day1 on Twitter, and Day1online on Instagram. And sign up for our weekly e-newsletter at Day1.org!
EO – Educational Opportunities Tours


Educational Opportunities Tours is a Christian travel ministry that has been delivering Christian journeys of a lifetime for almost 50 years. Travelers have joined EO around the world on Holy Land pilgrimages, Bible land expeditions – by land and sea, Church heritage tours, retreat cruises, and cultural explorations. EO's travel experts and on-site hospitality staff serve each guest by handling all travel details and ensuring safety and health throughout each journey; curated itineraries, educational resources, and guest speakers create unique experiences that change individual lives, ministry, and the Church. 

EO Tours offers hundreds of scheduled departures each year. Individual travelers or groups of any size can join these inspirational journeys. EO can also help travelers plan a customized itinerary to their destination(s) of choice. Whether you travel alone or with a group of 500, EO can help plan your Christian journey of a lifetime.

Despite the restrictions on travel due to the pandemic, EO Tours is assisting travelers with travel plans for 2021 and 2022. We look forward to serving you and your travelers through our Christian travel ministry. Visit our website, www.eo.travel, or contact us at 800-247-0017 to start planning your next Christian journey. 
EOX – Exceptional Expeditions

EOX – Exceptional Expeditions for Small Groups.
Does your small group want to travel without having to join others on a large bus? Do you want flexibility to change your itinerary before or during your trip? Is planning your trip difficult? Is pricing confusing and misleading?

EO Tours, a leader in Christian since 1974, is proud to introduce new expeditions for groups of 6-16 travelers to destinations around the world. EOX enables your small group to have a guaranteed private journey of a lifetime.

• Exciting and inspirational itineraries with sites not included on other EO travel experiences.
• Flexibility to change your plans before or during your expedition.
• Guaranteed private travel – no one will be added to your group.
• Pricing that is easy to understand and offers great value.
• Flexible travel dates to fit your schedule needs.
• Expert service and advice from the leader in Christian travel.

Visit www.eo.travel/eox to see sample itineraries to Egypt, Greece, the Holy Land, Iceland, Ireland, Italy, Mexico, Turkey, and more – some of these countries are open to US travelers now. Start planning today for travel in late 2021 or 2022.
Faith+Lead

Grounded in radical trust that the Holy Spirit is moving in the midst of change, Faith+Lead connects you to the resources, experiments, and communities exploring how to innovate faithfully in the 21st century. Join our free social network and get support, encouragement, and courses that speak to the challenges and joys of ministry today.
Illustrated Ministry

Illustrated Ministry creates accessible, faith-based resources for the church and home.
Illustrated Ministry celebrates the expansive image of God in everyone through open and inclusive language, diverse imagery, and progressive theology.
Our thoughtful and easy-to-use materials are designed to foster authentic faith engagement through our intergenerational focus, our modern and refreshing design, and creative and engaging content and activities.

Whether you're looking for materials to use at home with kids of all ages, you're exploring what intergenerational ministry looks like in your context, or you want some devotionals and coloring pages to use personally, Illustrated Ministry has what you're looking for.

Over seventy different denominations around the world, and across the theological spectrum, enjoy and use our resources. Our community appreciates our clean and modern design, the diversity found in our illustrations (you won't find a white Jesus here), our use of inclusive language, our digital and downloadable content, the tiered-pricing we offer, and our intergenerational focus.

We are a small and agile business, which allows us to respond quickly to our community's needs and desires. In the past year, we've created curricula to be used virtually and published a best-selling Virtual Vacation Bible School curriculum called Compassion Camp (with a new edition coming in 2021).

To learn more and receive a free sample of our products and resources, go to illustratedministry.com/freebie
The Lilly Endowment Clergy Renewal Programs (Chrstian Theological Seminary)

Lilly Endowment's Clergy Renewal Programs are administered by the Center for Pastoral Excellence at Christian Theological Seminary.
Through its religion grantmaking, Lilly Endowment, an Indianapolis-based, private philanthropic foundation, seeks to deepen and enrich the lives of American Christians. It does this largely through initiatives to enhance and sustain the quality of ministry in American congregations and parishes.

To this end, National and Indiana Clergy Renewal Programs provide an opportunity for pastors to step away briefly from the persistent obligations of daily parish life and to engage in a period of renewal and reflection. Renewal periods are not vacations but times for intentional exploration and reflection, for drinking again from God's life-giving waters, for regaining enthusiasm and creativity for ministry.

Details and application materials for the 2021 programs are now available. In the 2021 Lilly Endowment National Clergy Renewal Program and the 2021 Lilly Endowment Clergy Renewal Program for Indiana Congregations, eligible congregations will be able to apply for grants of up to $50,000 each to support a renewal program for their pastor. Up to $15,000 of the grant may be used for congregational expenses associated with the renewal program.
PreachingandWorship.org aims to provide easy access to excellent online resources for preparing sermons and worship services for a wide range of denominations and traditions—a bit like a Google, Bing, or Yahoo search, specifically designed for preachers. This site is a collaborative project of the Calvin Institute of Christian Worship and the Christian Classics Ethereal Library/Hymnary.org with funding provided by Lilly Endowment Inc. To date, more than 100k webpages are accessible through this website, including African-American Lectionary, Calvin Institute of Christian Worship, Center for Excellence in Preaching, Christian Century, Christianity Today (Preaching Today), Commonweal Magazine, Greek Orthodox Archdiocese of America, Loyola Press, National Gallery of Art, Reformed Worship, and many others.
Progressive Pilgrimage

Progressive Pilgrimage provides global travel opportunities that stimulate the intellect, enrich the spirit, and build relationships among people of different religions and cultures. Our vision is to inspire Christians to become more engaged citizens, more faithful disciples, and more thoughtful neighbors, shaping God's peaceable kingdom on earth today. Whether going to The Holy Land, Scotland, Ireland, Western Europe, or somewhere else, our pilgrimages are customized to the needs and interests of your group. We work side-by-side with your group leader to discern the most appropriate itinerary. We support your pilgrimage with marketing resources and are available to meet with your group, if desired. We provide extensive educational resources and handle all logistics, freeing your group leader and participants to focus on the pilgrimage experience. Our commitment to education, spirituality, and cultural sensitivity is primarily what makes us think of our pilgrimages as "progressive." To travel with us means to be challenged, to learn, and to grow as you encounter new locales, meet new people, engage with new cultural and religious traditions.
Thrivent

Thrivent provides advice, banking, insurance, investment options and guidance on how you can live generously. Money itself isn't your end goal. (But it can help you get there.) Our financial guidance can help you move forward in life and reach your own higher purpose.
Yogadevotion

Yoga is more than the shapes we make with our bodies or how we manipulate our breath. Yoga is a way to find sacred space in our bodies so that we may feel connected, connecting with something greater than self that we call God. Yogadevotion has been guiding people in search of the intersections of faith and yoga for over 20 years and we are honored to be at the Festival of Homiletics again this year.

This year we will offer three different ways to embody our faith. We will offer traditional practices of yin, hatha and vinyasa yoga taught by Rev. Cindy Senarighi, retired ELCA, RN, 200 Hr E-RYT and owner of Yogadevotion. We will offer gentle yoga and healing touch taught by Lisa Banning Ender, 200 hr RYT, Certified Healing Touch Practitioner and business manager for Yogadevotion. Finally we will offer the healing benefits of contemplative practices of meditation/centering prayer, chanting and Lectio Divina by Heidi Green 200-E RYT, 500 RYT, co-author of Yogadevotion: Practicing in the Presence and Yogadevotion's online teacher certification.

All classes will be accessible to people experiencing yoga for the first time as well as to yoga enthusiasts. All classes will include gentle movement as part of the practice. Please visit yogadevotion.com for full bio's and more information about props needed for the classes.