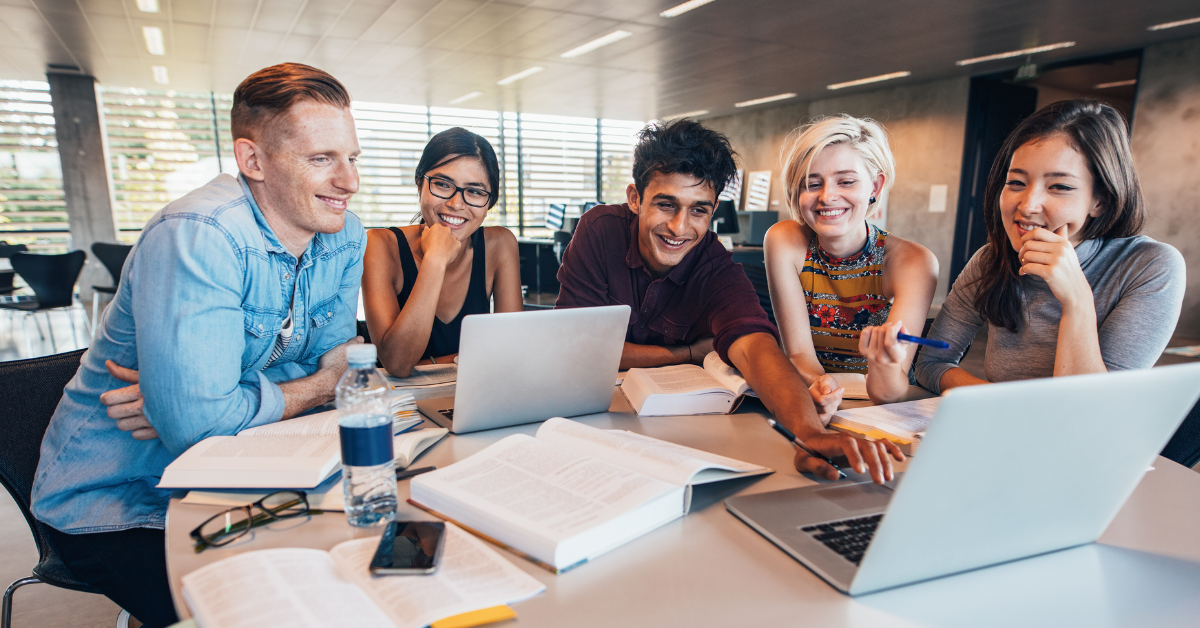 Get to know the schools sponsoring the 2021 Festival!
Join these schools and more at the 2021 virtual Festival. Register today for the free option or upgrade now to premium access and exclusive workshops for only $75.
The Center for Excellence in Preaching at Calvin Theological Seminary provides busy preachers with the resources they need to preach fresh, compelling, vibrant sermons from God's Word and has been doing so since 2005. Enjoy a wealth of standing resources like recommended commentaries and other books, as well as the new sermon starter articles, posted each week in English and Spanish to spark inspiration.

The Center for Excellence in Preaching follows the sequence of the Revised Common Lectionary and also maintains a large archive of sermon articles that can be searched and used to find ideas on almost any text, regardless of whether a pastor follows the Lectionary. There is also a trove of illustrative quotes on a wide range of preaching-related topics, ideas for illustrations drawn from the world of cinema, an array of audio/podcast sermons, and a series of short 5-minute teaching videos to help pastors brush up on some of the essential techniques of the preaching craft.
Preachers are busy people whose sermon-writing never stops. The Center for Excellence in Preaching strives to keep things fresh every week by jump starting every pastor's creativity in engaging God's Word to produce lively sermons of power and beauty.
The Calvin Institute of Christian Worship (CICW), located at Calvin University and Calvin Theological Seminary in Grand Rapids, Michigan, is an interdisciplinary study and ministry center that promotes the scholarly study of the theology, history, and practice of Christian worship and the renewal of worship in worshiping communities across North America and beyond.

Founded in 1997, CICW is dedicated to using the unique resources of a Christian liberal arts university and theological seminary—with its collegial environment, international faculty and student body, wide interdisciplinary expertise, and culture of ongoing learning—to partner with congregations, denominations, parachurch organizations, professional organizations, and publishers to further our mission.
Public Worship and the Christian Life is our first podcast series generated for the past Online Symposium on Worship in January 2021. In these fifteen episodes, you can listen to interviews with experts in various areas of worship and Christian life, including preaching, psalms, church history, multicultural leadership, liturgical studies, forgiveness, and contemporary worship. You may also listen to this podcast series on Spotify, Google Podcasts, and Amazon Music.
The Gardner-Webb University School of Divinity aims to equip, nurture, encourage, and support men and women for their very best service in the Kingdom of God.
The School of Divinity offers two degree programs: the Master of Divinity and the Doctor of Ministry. Excellent scholars teach the classical Christian disciplines with full awareness that academics alone will not meet the needs, concerns, and challenges of the varieties of Christian ministries to which God calls us. Unless we attend to our spiritual, personal, and emotional development, the ministries to which we are called will fall far short of our Lord's expectations.
At Gardner-Webb University, great faith manifests itself in who you are and how you act. Because greatness is really about changing lives and helping others, at Gardner-Webb, you'll do plenty of both. Here, you'll test your intellectual determination—and you'll also seek your purpose. You'll be equipped and encouraged to discover the unique place where your faith reaches out to meet the needs of the world.
Omaha Presbyterian Seminary Foundation seeks, develops and supports excellence in Christian leadership for the Presbyterian Church (USA). For 130 years, OPSF has answered the call to support those who lead or will become leaders of our churches. 

For those beginning their path, OPSF scholarships are available for persons pursuing a Master of Divinity degree at any of the ten Presbyterian seminaries.
For clergy presently serving congregations, lifelong learning programs and grants are available as well as coaching and spiritual direction scholarships.
The Foundation continues to focus on church leaders and create new programs to serve the current needs as they arise. Through learning and support, pastors are better equipped to serve their congregations and communities. Omaha Presbyterian Seminary Foundation is here to offer that support.
Pittsburgh Theological Seminary. Is the work of ministry raising questions you never thought to ask in seminary? Are you craving a deep learning community where you can develop practices that better equip you to serve God's people? Is there a revelation written on your heart that you need help from a community of care and learning to birth into reality? Are you looking for a program that provides space for renewal, growth, companionship among peers, and rich dialogue with faculty?

We invite you to imagine something new in the Doctor of Ministry program at Pittsburgh Theological Seminary! Our program does rolling admissions, and cohorts fill up quickly. We encourage you to apply soon to join one of our Doctor of Ministry adventures! Financial aid is available for those who qualify.
Cohorts Forming in 2021:
• Reformed Theology
• Creative Writing and Public Theology
• Eastern Christian
• Intergenerational Black Church Studies

Memphis Theological Seminary is dedicated to educating students so that they are well prepared to have a lively imagination for ministry, open to challenges, ready for difficult days, and committed to serving God through service in the church and the broader community.

Find out more.
Louisville Presbyterian Theological Seminary, founded in 1853, offers an inclusive and diverse learning community, welcoming students from wide ecumenical backgrounds while maintaining its long, historic commitment to the Presbyterian Church (U.S.A).
Louisville Seminary is committed to building bridges across the world's religious, racial, and cultural divides. It is distinguished by its nationally recognized marriage and family therapy and field education programs, the scholarship and church service among its faculty, and a commitment to training individuals to participate in the continuing ministry of Jesus Christ.
Master's degree programs include Master of Divinity, Master of Arts (Religion), and Master of Arts in Marriage and Family Therapy.


Doctoral programs focus on Pastoral Care and Counseling, Black Church Studies, and Advanced Practice of Ministry. Master of Divinity students may pursue dual degrees in Social Work, Law, or Business Administration in partnership with the University of Louisville.


As an accredited graduate-level seminary, Louisville Seminary is also approved by the University Senate of the United Methodist Church. The United Methodist, the African Methodist Episcopal, the African Methodist Episcopal Zion, and the Christian Methodist Episcopal churches officially recognize Louisville Seminary as an appropriate school for their candidates to receive their theological education.


Louisville Seminary offers 100 percent tuition assistance to all master's-level students. Additional scholarships and educational loans are available. Virtual campus visits and degree program open houses are available to prospective students throughout the year. For more information, call (800) 264-1839 or log onto www.lpts.edu.

Find out more.
United Theological Seminary has a goal to prepare faithful and fruitful Christian leaders to make disciples of Jesus Christ. Whether you're pursuing a Doctor of Ministry or master's degree, United has options online and on campus to fit your busy schedule. Visit united.edu for more information.

Find out more.
Saint Paul School of Theology educates tomorrow's leaders by offering on-campus, online, and hybrid learning courses at a FLEXible schedule, Saint Paul School of Theology is a seminary committed to the formation of people for innovative, creative ministry. Grounded in academic study of faith and ministry, theology is practiced both in a traditional classroom and in a contextual curriculum featuring Ministry Collaboration Groups, Practicums, Spiritual Formation Retreats, and Seminars. Upon graduating, Saint Paul alumni have followed many paths to ministry and leadership within their community and around the world. 


Degrees:
• Doctor of Ministry: Spiritual Leadership in Unsettled Times, offered in partnership with the United Methodist Church of the Resurrection, Gamaliel, and Metro Organization for Racial and Economic Equity, provides ministry leaders an opportunity to reflect more deeply on their theology, identity, and practice of ministry while developing a model of ministry which can be commended to other leaders.
• Master of Divinity prepares leaders for ministry in a church setting, chaplaincy, and other religious leadership forms. Graduates provide leadership in the renewal of the church, demonstrate a critical and practical understanding of the Bible, and obtain requirements necessary for ordination.
• Master of Arts in Christian Ministry is designed to provide theologically informed and competent lay and ordained leaders in specialized ministry for the local church and beyond.
• Master of Arts in Theological Studies is designed to be an academic concentration for persons intending to pursue further graduate studies such as a doctoral or Ph.D. program; or by laypersons desiring to strengthen the religious basis of their lives and vocations.

Find out more.
At Emmanuel College, the learning environment mirrors the religious and spiritual diversity of the world its graduates will serve. Future leaders of the United Church of Canada, Muslim, Buddhist, and other faith traditions unite in a common purpose – to meet the world's needs. Our graduates educate, administrate, make music, lead congregations, and provide spiritual care in secular and religious institutions across North America.